When I first looked at my review copy of Russ Crandall's (
The Domestic Man
) debut cook book,
Ancestral Table
, and saw the picture of pizza on the cover, I was like: "What? Pizza? Wasn't this supposed to be about traditional recipes?" I then realized that pizza IS an old traditional food in Italy. While I have mostly given up pizza as I can't have cheese nor can I imagine eating pizza without cheese, I think pizza is a great bridge between old traditional foods and modern cuisine. Actually it might be a great marketing idea to put a pizza on the cover as it might draw new audiences and help realize that pizza can be made healthier too. Going gluten free doesn't mean you have to give up all the foods you are used to eating.
When I heard about the book I was excited because I have been thinking a lot during our gluten free, dairy free and later paleo journey that we'd just need to go back to old recipes. We don't have to go all the way back to paleolithic era to find lots of recipes that use real foods and are or can be easily modified to the paleo diet. For a while now I have also been studying old recipes so this cook book really hit the spot.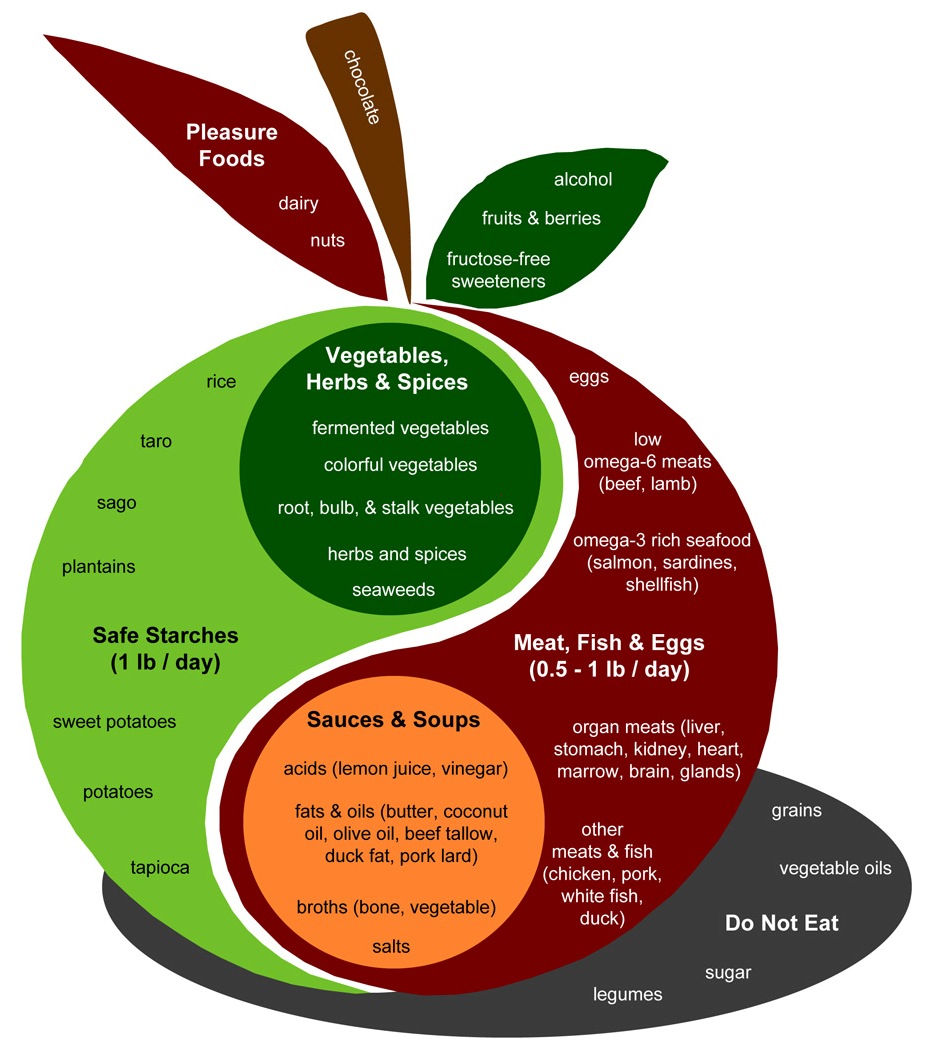 The Perfect Health Diet Protocol
The Ancestral Table is the first book based on the
Perfect Health Diet
. The recipes contain also gray area foods in paleo diet like rice, potatoes, peas and dairy as they often are fairly well tolerated. In the appendix there is also a substitution chart for those who prefer not to use those ingredients though. Russ Crandall has also published a chart for people like me following autoimmune protocol. You'll find it
here
. Including rice, potatoes, dairy etc. can also make the paleo diet less intimidating for anyone trying to make the leap to a paleo lifestyle.
The book features over one hundred recipes from different cultures. The vast number of recipes really is impressive. I kept thinking as I was browsing the book that the recipes should be arranged by continents but it does make much more sense to arrange them according to categories like seafood recipes in one and desserts in one section. There are recipes from Swedish meatballs to Japanese Yakitori and Eastern European Bortch soup. As a Finn I have to criticize a little bit the absence of Finnish recipes, hahaha. Although there are recipes in the book that are also traditional in the Finnish kitchen that has a lot common with its neighboring cuisines (Sweden and Russia) like meat balls and cabbage rolls.
I really admired Crandall's dedication to great cooking and to well prepared traditional foods. He has written a collection of guiding principles in the beginning of the book, I liked especially this one:
"No shortcuts. It's a hard truth to face, but if you're too busy to properly cook a meal, you may want to find out what's making you so busy and reprioritize."
The pictures in Ancestral Table are very cozy, even rustic and not too polished.
All in all I think the book is a great addition to the paleo cook book selection and I am sure I will cook many of these foods and learn in the same time about different food cultures all over the world. The book is a great addition to any kitchen shelf as it also contains basic broth, gravy, mayonnaise and fermenting recipes. All made honoring traditional methods from scratch. As many modern paleo cook books try to come up with healthy versions of modern favorites and even so called junk foods, this book lifts the old naturally healthy foods on the pedestal and gives them the respect they deserve.